Running out of paper since 1638
plus the Q4 run around
I've been thinking about colonial book publishing. Weird, I know. But sometimes you need a world away to look away from this world.
I've been reading Joseph Adelman's fantastic Revolutionary Networks: The Business and Politics of Printing the News, 1763-1789. From him I learned there were almost no books published in America in the colonial era, because paper was just too damned expensive. Books were imported from England; printers here focused on almanacs, pamphlets, custom orders, and, of course, newspapers. The "publisher" was more often than not the printer; the editor was also the printer. Printers decided what was news, and what was worth publishing.
According to John Tebbel, the first American publisher in the sense we have of it today, was Matthew Carey, who quickly realized the need for a (wait for it) distribution system, so he created one. He also became proficient with preorder campaigns: "Whenever possible, he tried to guarantee himself against losses by…soliciting advance subscriptions before he printed." (Between the Covers, 16). (**oh hey any scholars reading this: I look forward to my second round of reading to find out what you guys have said about Tebbel's research during the past 30 years. Do not worry! Send me links!)
I've only begun this sojourn into reading about colonial book publishing, which also involves stories about guys in England hauling printing presses on boats across the Atlantic (and then dying on the way, leaving their wives to become the owners of the business—and thus the earliest of printers—and then marry someone who would become president of Harvard and take it over. True story!).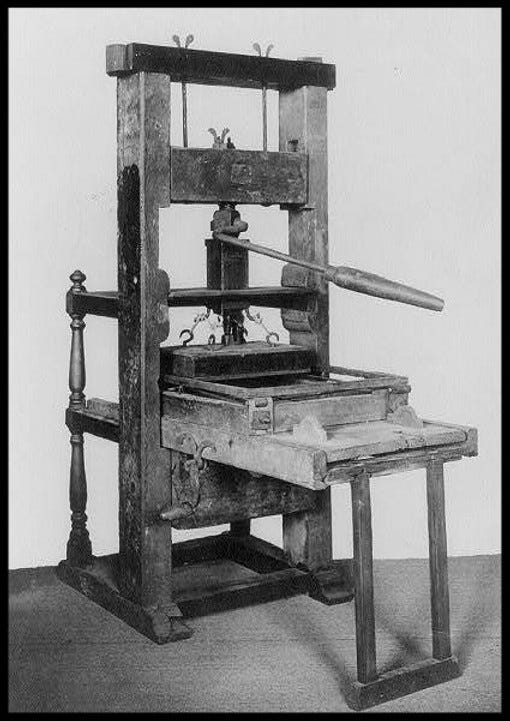 Reading this history, you can never forget the industrial basis of books: the heavy metal machines, the hundreds of physical letters, the resource-hungry paper. Today, the book industry is running around screaming "there isn't enough paper!" "there aren't enough printers!" Indie bookstores are doing a campaign, "October is the new December," to get people to place holiday orders early, because everyone is worried about running out of stock.
Paper is hungry now. End of the American experiment/Start of the American experiment: not so different!
Over at Belt Publishing, things are looking strangely like April (2020, not 1690). Amazon has slooooooowed down placing orders, as they are still out of room in their warehouses, we are told, and the returns for October (presumably as bookstores make room for holiday sales aka Obama's book) have wiped away our sales for the month thus far (sad face). Of course, there were hidden advantages to this pattern for us in April, as there will be for us again now. But it less fun to check how things are going over on the distributor dashboard.
But the fourth quarter is never fun for me. It's just a big vat of free floating anxiety, manic half-measures — "let's gin up lots of holiday sales, guys!!!" —and compulsive checking of metrics. Oh wait—I just read my own archives, and it turns out that a year ago today, my newsletter, titled Q4, was about how much I dread this period and how I always do the same, often ill-fated (sometimes smashingly successful) things. Hahahahahahaha. What can you say: experience, makes things easier.
Nevertheless this week was also suffused with good news, and not just of the schadenfreude variety, from this incredibly charming discussion of my book, to CBS Sunday Morning featuring a Belt author, to a Belt author being named 5 over 50. And as I continue my annoyingly slow recovery from my August house fire, the staff of Belt—Martha, Meredith, Dan, David, and Bill—continue to take up all the slack and steer our ship, carrying only a figurative printing press, forward.
Notes from a Small Press is a weekly newsletter by the founder and owner of Belt Publishing. Become a subscriber. Get yourself a copy of  So You Want to Publish a Book?, the book based on the newsletter!